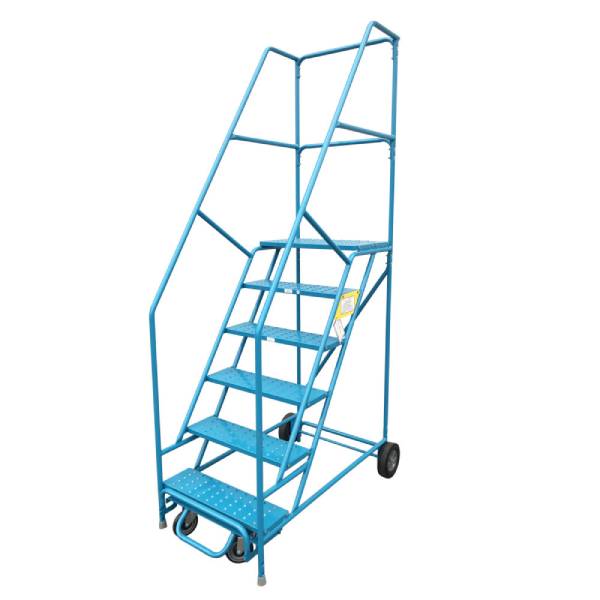 Warehouse ladders can provide facilities with safe and efficient ways to stock and organize hard-to-reach areas. With so many options available for rolling ladders, it can be difficult to determine which products are best for your needs, facility, and budget. That is why the experts at Unitran Manufacturers have put together some information to help you determine which warehouse ladder is right for you. This will ensure that you are choosing a product that optimizes safety and efficiency instead of a ladder that increases the risk of accidents or injury.
Learn about some of the key features of mechanics ladders.
5 Types of Warehouse Ladders
When it comes to warehouse ladders, there are many different configurations to choose from. The following configurations are widely used across various industries:
1. Rolling Ladders
Rolling ladders are one of the most popular and useful options for warehouses, stock rooms, and storage facilities. With sizes ranging from 2 to 20 steps, these warehouse ladders can suit any situation. Options such as automatic brakes and positive locking systems are available on select sizes, allowing you to increase safety and productivity simultaneously.
2. Mechanic's Ladders
Available in 3-step and 4-step models, this type of ladder is ideal for use in maintenance areas, storage facilities, and garages. These service ladders have a 21-inch platform to provide plenty of room for a worker to maneuver while completing a job, making them ideal for repairs, or extended jobs that require aerial access.
3. Tilt and Roll Ladders
Tilt and roll ladders are an efficient two-step warehouse step stool system with casters and a handle to allow for easy and fast transportation. Each unit can support up to 300 pounds, making them an excellent option for stock rooms, maintenance areas, tool cribs, and any other crowded area that requires fast aerial access.
4. Rolling Work Platforms
Rolling work platforms have an extended 42-inch platform to make room for tools, stock, or an extra worker, making them the ideal choice for long jobs or applications that require extended aerial access. Rolling work platforms are available in sizes ranging from 3 to 5 steps, allowing you to choose the ideal solution for your work environment.
5. Push Handle Ladders
Push handle ladders are another excellent system for operations that need an efficient and effective small ladder system. These 2-step rolling ladders have a handle for easy mobility and are useful for storage and service facilities.
To learn more about our warehouse ladders or to inquire about our other equipment, get in touch with the team at Unitran Manufacturers. We can be reached through our online contact form and will be happy to answer any questions you may have regarding our products or the details of your operation.