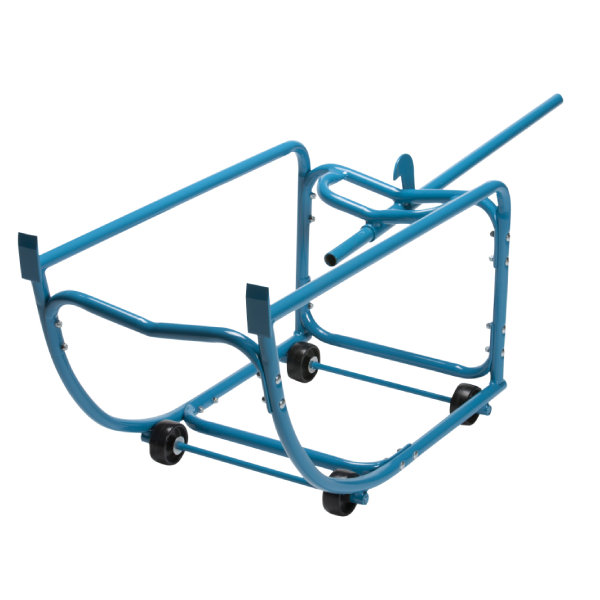 Drum handling can be a difficult and potentially hazardous task without the right equipment. Whether you are transporting drums of oil or pails of hazardous chemicals, it is crucial to have the right equipment for the job. A leading provider of drum trucks for various industries, Unitran Manufacturers knows how important safe operation is when handling drums. That is why we have provided an overview of the most popular types of drum handling equipment to help you choose the perfect unit for your needs.
Learn about the best hand trucks for the liquor industry.
4 Popular Types of Drum Handling Equipment
The following types of drum handling equipment are widely utilized across a variety of industries:
1. Drum Trucks
Drum trucks are made from sturdy all-welded steel and feature a vertical design that mounts to the drum, making it easy to tilt it during transportation for additional stability. Drum trucks are available in economy, plastic, and deluxe configurations, allowing you to choose the perfect option for your needs and budget.
2. Dispensing Drum Trucks
If you need to transport and drain drums, a dispensing drum truck may be the perfect solution. Dispensing drum trucks are specifically designed to allow for dispensing liquids with the same ease as transporting full drums. All dispensing drum trucks feature unique rollers attached to the steel frame, allowing the user to easily rotate drums without removing them from the drum truck. Each unit also features special hooks that fit neatly beneath the spigot without interfering with the dispensing of the drum's liquids.
3. Drum Cradles
All drum cradles are designed to provide a safe way to upend 45-gallon drums and effortlessly move them, making it easy to load a drum into draining position in a matter of seconds. Drum cradles are available with four rigid wheels or two rigid and two swivel wheels, allowing you to choose the perfect option for your handling preferences and needs.
4. Drum Dollies
Drum dollies are made from heavy-duty welded steel and feature a powder-coated finish to help prevent rusting and wear in harsh environments. All drum dollies feature a 24″ diameter and four swivel casters, making it easy to turn 360 degrees without moving the unit forward. With a 1000 lb weight capacity and exceptional maneuverability, drum trucks are the ideal choice for transporting 45-gallon drums from one warehouse location to the next.
To learn more about our selection of drum handling equipment or to inquire about our other products, get in touch with the team at Unitran Manufacturers. We can be reached through our online contact form and will be happy to help you determine the perfect product solution for your facility.