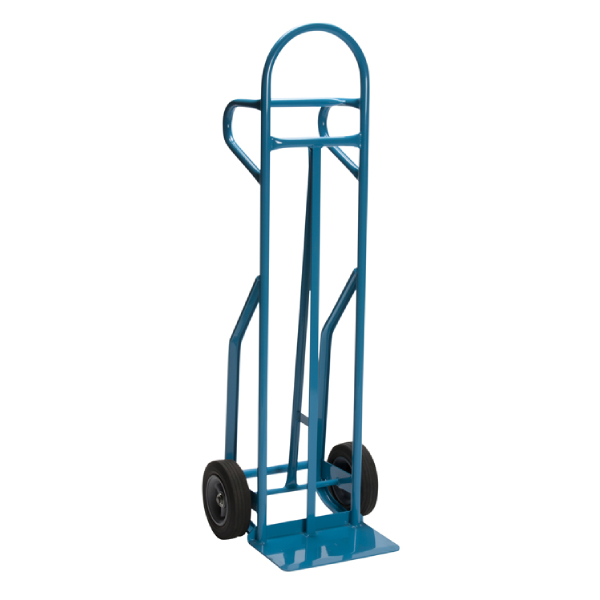 Liquor warehouses and stores need to handle many boxes, crates, and pallets of bottled and canned goods. To meet this demand, it is important to use the right tools for the job. While standard hand trucks can help get the job done, a specialized liquor hand truck will get the job done right. These units have been specifically designed and constructed to withstand cold environments and the fast pace of the liquor industry, ensuring optimal safety and productivity. As leading providers of hand trucks for all industries, the team at Unitran Manufacturers knows how important it is to have the right tools for the job. That is why we have provided some information outlining which hand trucks are best for the liquor industry to help you make an informed purchasing decision.
Learn about the different types of specialized hand trucks.
3 Types of Hand Trucks for the Liquor Industry
The following types of hand trucks are ideal for the liquor industry:
1. Liquor Hand Trucks
Liquor hand trucks are made from a strong all-welded tubular construction that is built to survive the toughest commercial and industrial warehouse environments. These hand trucks are ideal for liquor stores, warehouses, breweries, and wineries. Liquor hand trucks offer extreme maneuverability with two 8″ x 2″ semi-pneumatic wheels and a frame designed for both one and two-handed operation. All liquor hand trucks are 50″ tall, 19″ wide, and have a nose size of 5 1/2″ x 12″. While liquor trucks only weigh 28 lb, they are perfect for transporting products that weigh up to 500 lb.
2. Beer Pallet Hand Trucks
Pallets of beer cans can be larger and heavier than other containers of liquor products. To meet these increased demands, it is best to utilize a beer pallet hand truck. These units feature 2 molded rubber wheels and a rugged powder-coated frame that can be easily handled with one or two hands. Additional specifications include a height of 59", a width of 15.5", and a nose size of 13" x 10" for enhanced load stability. Beer pallet hand trucks weigh roughly 30 lb and can handle loads up to 700 lb, making them a great choice for breweries.
3. Mini Beer Hand Trucks
Mini beer hand trucks are designed to quickly and safely handle single liquor cases, making them the perfect fit for liquor stores. Their slim design is light and durable while allowing for easy operation with one hand if needed. Specifications include a height of 60", a slim width of 10", and a depth of 20" for reliable handling of stacked cases. Mini beer hand trucks weigh approximately 22 lb and can support loads up to 700 lb.
To learn more about our selection of hand trucks for the liquor industry or to inquire about our other products, get in touch with the experts at Unitran Manufacturers. We can be reached through our online contact form and will be happy to answer any questions you may have regarding our products.