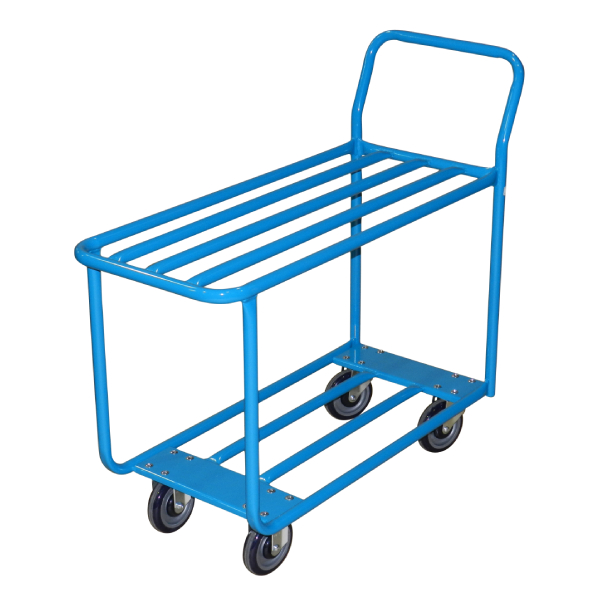 From warehousing and manufacturing to logistics and food production, there are many operations that utilize a variety of stock carts to transport items throughout their facility. With so many options for stocking carts available, it can be difficult to determine which product is the best choice for your needs. That is why the team at Unitran Manufacturers has compiled a list outlining the different types to help you determine which stocking cart is right for you.
Learn what dispensing drum trucks are and the benefits they offer.
Types of Stocking Carts
Stocking carts are purpose-built to withstand harsh operating environments and demanding tasks. Every unit features a durable frame constructed from all-welded 1" diameter tubing and a powder-coated finish to minimize wear and increase durability. Stocking carts are available in the following configurations based on your needs:
Solid Shelf Tube Cart
This type of stocking cart features a flat platform with no gaps, making it a great choice for small and large items. This solid platform is located right above the wheels, allowing for safe handling of taller materials and items without disrupting visibility for the operator.
Tube Frame with Solid Top
These stocking carts combine a tube-based bottom shelf with a solid top shelf for exceptional versatility. The bottom shelf is ideal for transporting boxed goods or long materials while the top shelf can safely handle smaller materials and nearly any other type of item.
6-Wheel Stock Cart
If you work in extremely tight spaces, a 6-wheel stocking cart is the ideal solution. As noted by their name, these units feature 6 wheels instead of the typical 4. This allows for complete 360° rotation without moving forward or backward, giving operators the ability to reposition the cart as needed in any setting. In addition to standard sizes, 6-wheel stock carts are available in larger configurations for bigger materials.
Single-Shelf Tube Cart
These stocking carts are similar to solid shelf tube carts, though they feature a tube-based platform instead of a solid surface with no gaps. This makes them a great option for tall boxes, cartons, and other large items that are not at risk of falling through the gaps.
Two-Shelf Tube Cart
As referenced by their name, these carts feature two tube-based shelves for additional carrying capabilities. Two-shelf tube carts are ideal for operations that need to transport many boxed items, cartons, or longer materials in one trip.
To learn more about our selection of stocking carts or to inquire about our other products, get in touch with the team at Unitran Manufacturers. We can be reached through our online contact form and will be happy to answer any questions you may have regarding our products.