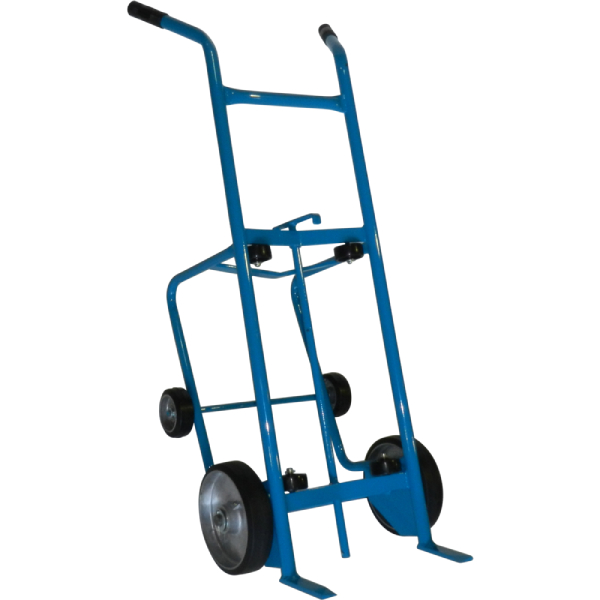 Metal drums can be difficult to handle, especially if they are filled with fluids such as gasoline or hazardous materials. If your operation handles a variety of fluid-filled drums, it is important to invest in the right handling equipment. As leading manufacturers of high-quality handling equipment like dispensing drum trucks and steel carts, the team at Unitran Manufacturers knows that the right equipment can make a world of difference for productivity and employee safety. That is why we have provided some information to explain what dispensing drum trucks are and help you determine if they are the right choice for your operation.


Learn which hand trucks are best for the liquor industry.
Key Features of Dispensing Drum Trucks
Dispensing drum trucks are specifically designed to handle full-sized drums and position them for dispensing their contents. Key features of dispensing drum trucks include:
Three Functional Operating Positions
Every dispensing drum truck features a unique design that offers 3 functional operating positions. These positions include:
Vertical, for easy 2-wheel handling and maneuverability in tight spaces.
Diagonal, for perfect balance, reliable stability, and 4-wheel handling.
Horizontal, for effortlessly rotating the drum and accessing the contents.
These positions allow operators to effortlessly load, transport, and empty drums as needed throughout the day, reducing strain and optimizing productivity. Each position can be easily switched between as needed based on the task, work environment, or operator preference. This utility also optimizes accuracy during dispensing, helping to minimize the chance of hazardous spills and eliminating the need for time-consuming cleanup.
Rugged Strength and Durability
With their welded tubular construction and powder-coated finish, dispensing drum trucks can withstand heavy use in even the most demanding applications including warehousing, chemical processing, petroleum handling, and construction. All dispensing drum trucks feature unique rollers attached to the steel frame. These rollers are specifically designed to help rotate drums without having to remove them from the drum truck. Dispensing drum trucks offer a weight capacity of 1200 lb, making them ideal for transporting and dispensing liquid from small and large drums alike.
To learn more about our dispensing drum trucks or to inquire about our other equipment solutions, get in touch with the team at Unitran Manufacturers. We can be reached through our online contact form and will be happy to answer any questions you may have regarding our products.