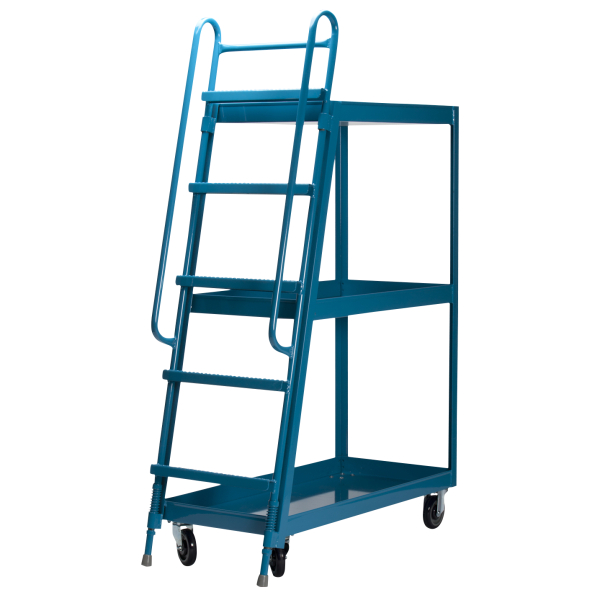 If you work in a fast-paced warehouse, automotive shop, or other facility, it is crucial to ensure that you are choosing equipment that can help you get the job done right while maintaining a high level of safety. This is especially true for workers that need to pick materials and products, as order picking can be extremely demanding and potentially hazardous without the right equipment. If you are looking for a way to enhance productivity and safety with the same piece of equipment, a two-shelf stock picker or three-shelf stock picker may be the perfect solution. To demonstrate the effectiveness of these units and help you determine if they are right for your operation, the team at Unitran Manufacturers has put together a list of the benefits of 2- and 3-shelf stock pickers.
Learn about some important safety considerations for rolling ladders and stock pickers.
3 Reasons to use a Stock Picker Cart
Also known as stock picking ladders, 2- and 3-shelf stock picker carts offer the following benefits for operations of all sizes:
1. Enhanced Efficiency
2- and 3-shelf stock pickers combine a rolling ladder with a stock picker cart into one seamless piece of equipment that is easy to use in nearly any setting. This combination allows workers to safely access shelves and pick orders at heights up to 10'. Once these orders are picked, they can be safely set down on one of the shelves on the unit. This eliminates the need to retrieve products with a ladder and then travel across the facility to a packaging area or assembly space for each order. Instead, workers can gather multiple orders at the same time and transport them where they need to be once the cart is full, increasing efficiency without compromising safety.
2. Reliable Safety
Every 2- and 3-shelf stock picker features spring-loaded ladder grips that lock the unit in place once a worker steps on the ladder. This ensures optimal safety for all workers whether they are on the ground or working at heights. In addition to a stable and safe design, stock picking ladders reduce operator strain by minimizing the need for manual handling and transportation of heavier goods as workers can simply place all items on one of the shelves and push the unit throughout the facility as needed.
3. Suitable for Various Industries
The simple and effective design of 2- and 3-shelf stock pickers make them a great choice for various industries. Whether you work in a busy automotive garage, an order fulfillment warehouse, or an industrial manufacturing facility, these units can make all order/part picking tasks easier, safer, and faster. Using a stock picking ladder can also help you consolidate your equipment by eliminating the need for dedicated stock carts and ladders, cutting down on the amount of equipment you need to store every day.
To learn more about our stock pickers or to inquire about our other equipment, get in touch with the team at Unitran Manufacturers. We can be reached through our online contact form and will be happy to answer any questions you may have regarding our products or the details of your operation.