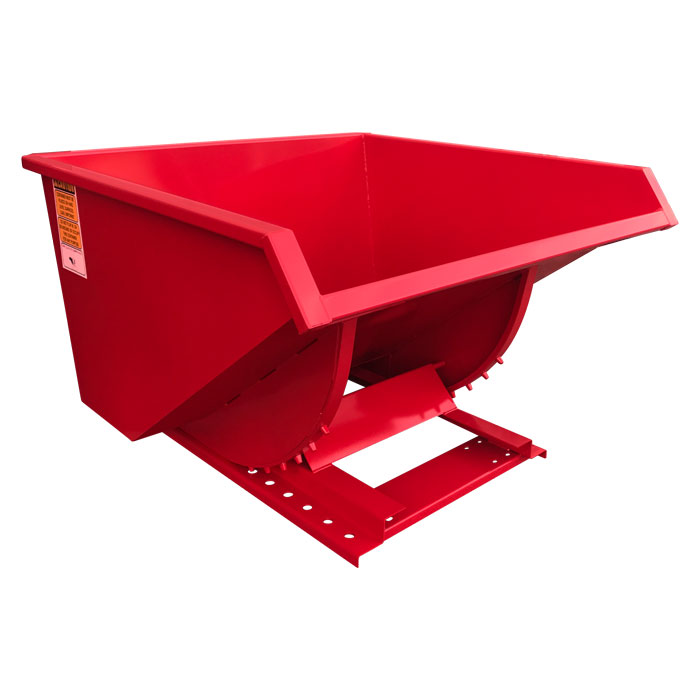 In any industry that deals with large quantities of heavy bulk or waste materials, self-dumping hoppers are indispensable. With the ability to lift and dump loose substances easily and quickly, these forklift attachments have uses in a variety of industries. At Unitran Manufacturers, we design and produce hoppers that are incredibly easy to use and can save company time and effort.
Self-Dumping Hoppers 
All forklift hoppers from Unitran Manufacturers are compatible with most types of forklifts and are incredibly easy to lift and move. Optional casters make moving and positioning fully loaded hoppers simpler and the easy to remove lid secures contents for transportation. Rust-resistant paint and heavy-duty welded 10 gauge, 3/16" or 1/4" steel construction ensures that these hoppers last for years on end. All hoppers have a maximum load capacity of 4,000 pounds and conform to all ANSI and TSDF safety standards.
Using a Self-Dumping Hopper
Using a forklift hopper from Unitran Manufacturers is incredibly easy. Simply insert the forklift tines into the hopper base and lift it to carrying height. Once the dumping destination has been reached, lift the hopper to dumping height and release the latch to dump the load. The perfectly balanced hopper will naturally tip forward to dump and will tip backwards to lock back in place once the load is emptied.
Self-Dumping Hopper Safety
In order to avoid injury, always make sure that employees follow these safety protocols:
Ensure that the hopper is locked in place before loading it with materials
Do not lift or dump materials from the hopper unless all personnel are at a reasonable distance from the forklift
Properly secure the hopper in place after each dump
Lock casters in place with brakes or chocks whenever it is idle
To find out more about self-dumping hoppers from Unitran Manufacturers, or if you would like to learn more about any of the other products that Unitran manufactures, please contact us by filling out a contact form on our website or by calling us at 604-574-3465. We have over 50 years of experience in the fabrication industry as a Canadian warehouse equipment provider.