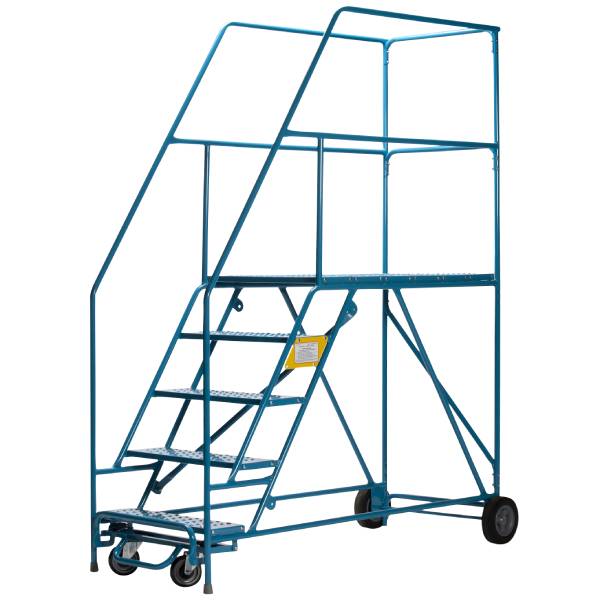 Being able to reach items located on top shelves or to work at heights easily is important for many different jobs. If you find that your workplace frequently requires ladders, step stools, and other equipment that allows you to reach high-up work or inventory, it might be worth looking into the benefits of rolling work platforms and rolling ladders. These pieces of equipment can improve the safety of most work environments and increase efficiency by offering an easy way to get from the ground to the height you need to reach. At Unitran Manufacturers, we offer a wide variety of types and sizes of rolling ladders and rolling platforms, and we can help you decide which type of equipment is best for your needs.
Should I Get a Rolling Ladder or Rolling Work Platform?
While both rolling work platforms and rolling ladders are great mobile solutions that allow workers to operate at heights, there are a few distinct differences that optimize them for different tasks. When deciding which product to go with, be sure to consider the following:
How High Do I Need to Reach?
While both ladders give a definite height advantage over most other step ladders, rolling work platforms are not typically manufactured as tall as rolling ladders. Rolling work platforms come in sizes with platform heights reaching 3'9", giving them an effective working height of 9'3". Rolling ladders top out with a platform height of 15' and a working height of 20'6", making them a better solution for jobs that require higher reach.
What Kind of Work is Being Performed?
The type of work being performed will be a major influencer of which type of rolling ladder or platform will be better for your facility's needs. A rolling work platform has a much wider standing area than a rolling ladder, making them better for jobs that require more movement and range of reach. A rolling ladder is ideally suited for retrievals and stationary work.
Do I Need Space for Equipment?
If space is required for equipment to be stored, a rolling work platform is usually the best way to go. While equipment trays can be outfitted for either option, rolling work platforms have much more space to set down larger pieces of equipment.
If you would like to learn more about the benefits of rolling work platforms vs. rolling ladders, or to find out more about Unitran Manufacturers and the products we provide, please contact our team so that we can answer your questions.