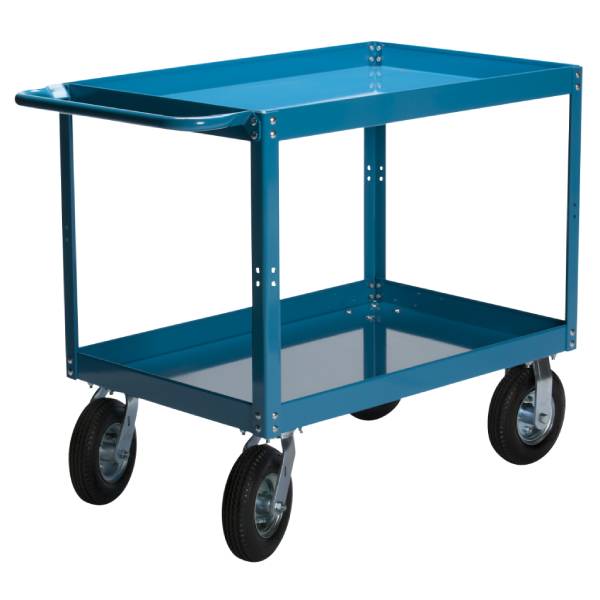 The right steel push carts can make a major difference in the flow of any greenhouse. Whether the push carts are going to be used by customers to shop for their garden needs or staff to move plants and other stock around the greenhouses, it is important to ensure that you get the best kind of steel cart for your greenhouse. At Unitran Manufacturers, we provide all kinds of carts and dollies that are ideally suited for use in greenhouses, garden centres, and various other commercial settings.
Carts for Greenhouse Use
There are many different types of carts available, and each design is ideally suited to a specific setting and use. If you are looking for a cart for use in greenhouses, it is important to consider a couple of factors. The type of ground that the cart will be rolling on will make a big difference in the kind of wheels that should be used, and the size of plants in the greenhouse will play a role in whether the cart should have two platforms or one in order to keep the centre of gravity lower. There is often a lot of moisture present in greenhouses and garden centres, so it is important to ensure that the steel cart is powder coated in order to provide moisture resistance. Some of the best types of steel carts that are ideally suited for use in greenhouses include:
Pneumatic Caster Carts
Unless your greenhouse and garden centre are set in a completely paved area, it is important to have carts with wheels that are large enough to easily handle slightly rough terrain, like gravel and garden pathways. Carts used in most warehouses and retail areas tend to have small casters that have trouble on uneven ground. Pneumatic caster carts feature four large pneumatic wheels that allow them to move easily around a greenhouse. They also feature two large trays for moving small plants around. Their 1200lb maximum load capacity make them hardy enough to stand up to most use, making them ideal for customer and staff use in any greenhouse.
Wagon Platform Trucks
Wagon platform trucks are perfect for moving large loads around a greenhouse with ease. Their large, flat wooden deck can be changed out if needed to ensure the wagon's longevity, or they can incorporate a steel deck if desired. These wagons are capable of carrying up to 1500lb, making them perfect for moving large plants and supplies.
If you would like to find out more information about what kind of steel cart is best for greenhouses, or to learn about any of the other heavy duty commercial equipment that we manufacture, please contact our team so that we can help you find what you need.