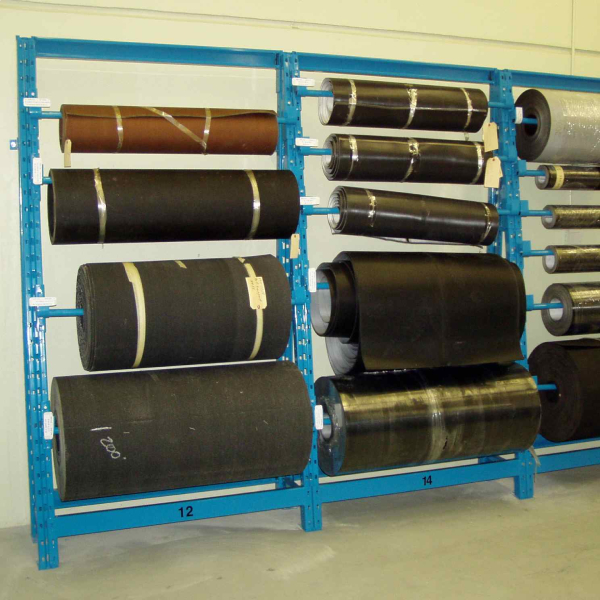 If your operation requires the use of strong wire, chains, hoses, or rope, you likely understand how difficult it can be to store and retrieve these materials. While there are several storage options for long materials and products, few can match the effectiveness and reliability of reel racking systems. As leading providers of industrial equipment solutions, the team at Unitran Manufacturers knows how beneficial these systems can be for various applications. That is why we have compiled a list of the benefits of reel racking systems to help you determine if they are the right choice for your facility.
Learn more about the different types of industrial reel racking solutions.
What are Reel Racks?
A reel rack is a type of racking system that is specifically designed for storing spooled materials of various sizes, weights, and materials. Reel racking systems feature adapters that can be repositioned to accommodate different sized spool axles and various sizes of pipes as needed. Reel racking systems come complete with a powder-coated finish to help prevent rusting and can support up to 1,500lb per pair of spool supports. These systems are ideal for fabrication shops, automotive shops, industrial warehouses, and any other application requiring the use of spooled inventory.
Why Should you use a Reel Rack?
Reel racks provide the following key benefits for operations of all sizes:
Lasting Durability and Reliability
All reel racking systems offer the strength and durability needed to stand up to the wear and tear of everyday use in even the harshest working environments. Each unit features a durable powder-coated frame to resist damage over time, ensuring reliable operation for years to come. All reel racking systems are heavy-duty while still allowing for assembly and disassembly by a single worker, maximizing reliability, organization, safety, and productivity.
Pre-Manufactured and Custom Options
In addition to an extensive selection of pre-set sizes, reel racking systems can be custom designed to meet your specific workplace requirements. Whether you are looking to store and dispense large quantities of wire, rope, electrical cable, or chain, Unitran Manufacturers will work closely with you to ensure that you are receiving the best reel racking system for your unique wants and needs. In some cases, reel racking systems can also be customized to provide additional features and higher weight capacities to accommodate unique applications.
To learn more about reel racks or our other speciality products, get in touch with the experts at Unitran Manufacturing. Our team can be reached through our online contact form and will work with you to deliver the perfect solution for your needs.