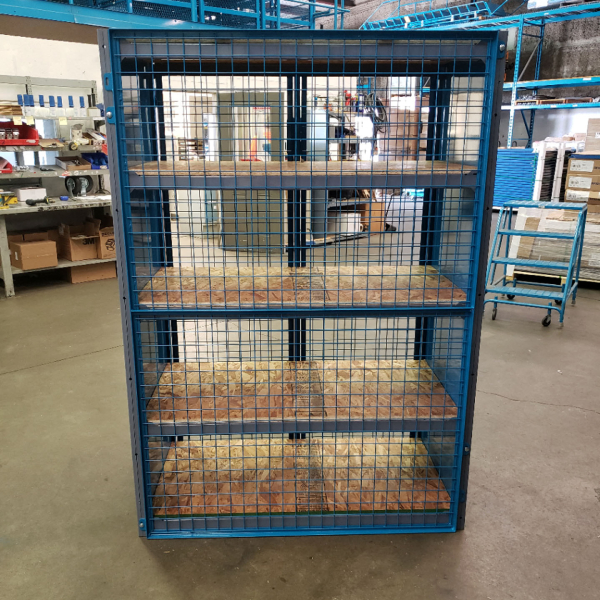 If your operation handles valuable materials, dangerous substances, important technology, or a combination of each of these items, it is crucial to ensure that they are properly protected. Failure to invest in sufficient security measures can increase the risk of internal and external theft of valuable or potentially hazardous items, negatively impacting your bottom line and compromising safety for your operation. As a leading provider of quality E-Z-Rect security lock-ups, the team at Unitran Manufacturers knows how valuable these units can be for every operation. That is why we have provided some information to demonstrate what security lock-ups can be used for and how they can enhance your operation.
Learn how storage mezzanines can be used for your operation.
5 Effective Uses for a Security Lock-Up Cabinet
An E-Z-Rect security lock-up can be effectively used for the following purposes:
1. Securing Items in Storage/Stock Rooms
Storage/stock rooms are the perfect location for important supplies, materials, or shipments. Since securing this area is crucial for preventing theft, many operations have started adding security cages to their storage rooms to help limit the number of people who are able to access the items stored inside. Security cages can provide a higher level of protection by acting as a barrier against potential theft or vandalism, minimizing the financial impact of stolen or damaged items.
2. Data Centre and Technology Protection
Security cages can be used to effectively protect computer network servers. By using security cages to limit access to data centres, companies can better protect their sensitive information and vital communication infrastructure, reducing the chance of data leaks or expensive replacement costs. Security lock-ups are also well ventilated, making them a great option for containing drives and devices that produce a lot of heat.
3. Protecting Expensive Retail Stock
Security cages can act as barriers for retail shops that need to secure high-value inventory, such as jewellery, technology, or expensive tools. While most retail shops tend to use glass display boxes, security cages can add an extra layer of security while drastically reducing the risk of smash-and-grab theft.
4. Securing Sensitive Documents or Information
Security cages provide the ideal solution for businesses that are looking for a better way to secure records, documents, and digital information. With the right tools, security cages can easily be assembled and disassembled, making it easy to protect documents and information in almost any location.
5. Protecting Pharmaceutical Supplies
Security cages are a great option for drug manufacturers, wholesalers, and suppliers who are looking to secure controlled substances in industrial and manufacturing facilities. It is crucial to note that the cages used for this type of task must meet strict security requirements set by the government. Be sure to speak with a professional to determine if your desired solution complies with these requirements.
To learn more about our selection of security lock-ups and other equipment solutions, get in touch with the team at Unitran Manufacturers. We can be reached through our online contact form and will be happy to answer any questions you may have.