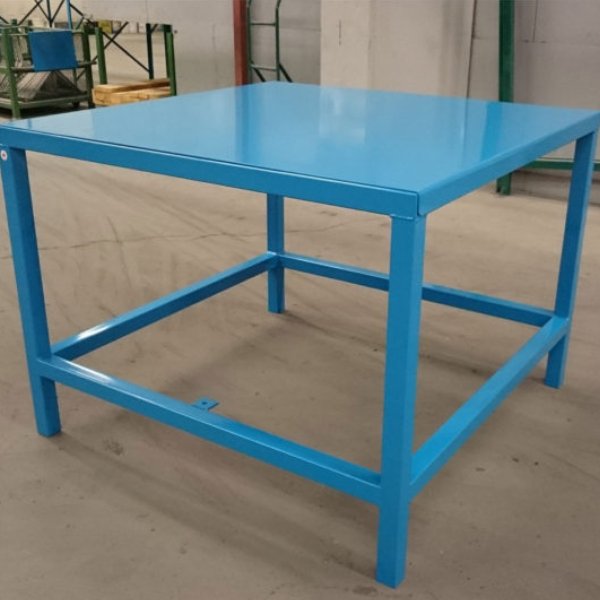 Warehouses, automotive shops, mechanical repair centres, and other industrial operations all require a dedicated space to safely package orders or work on products. To create this space, many operations will purchase and install a quality workbench. Though all workbenches severe a similar purpose, there are many different types available based on your precise needs. As leading providers of high-quality workbenches, the team at Unitran Manufacturers knows how difficult it can be to determine which option is best for your needs. That is why our team has compiled a list to help you understand the different types of workbenches and make an informed purchasing decision.
Learn about the different types of steel carts.
4 Common Types of Industrial Workbenches
There are many different types of industrial workbenches available based on your operational requirements. The following types of workbenches are a popular choice for various industries:
1. Packing Tables
If your operation receives and sends multiple shipments involving packaged goods each day, a packing table is likely the perfect choice for your needs. These workbenches offer a large flat surface that is ideal for placing products of all sizes, wrapping them, and packaging them. This large surface area can also accommodate various packing/shipping materials, allowing operators to store all required tools in the same place.
2. Machine Stands
Machine stands are designed to occupy a small amount of floor space while offering a stable and durable platform that can be used to set up, test, and repair machinery. The lip around the edge of the table prevents machinery from vibrating off the surface while a 2000 lb weight capacity ensures reliable support and safety for even the most demanding items.
3. HD Workbenches
If you require a flat and durable surface to work on various projects, the HD workbench is the perfect choice. Each unit features a 14-gauge coated metal surface to ensure that you will be able to work on heavy-duty materials without fear of damaging or breaking the workbench. Heavy-duty workbenches can also be easily moved as needed due to their swivel casters, making them a durable and versatile option for many applications and work environments.
4. HD Cutting Tables
Heavy-duty cutting tables offer a simple and flat surface that is ideal for various cutting and shaping jobs. Each cutting table is built with a shelf for more efficient storage of tools and access to materials. A drop-in bar grate surface is also included to make various cutting projects easier, safer, and more efficient, especially when cutting through materials.
To learn more about our selection of industrial workbenches, steel carts, or other industrial equipment, get in touch with the team at Unitran Manufacturers. We can be reached through our online contact form and will be happy to answer any questions you may have regarding our products.