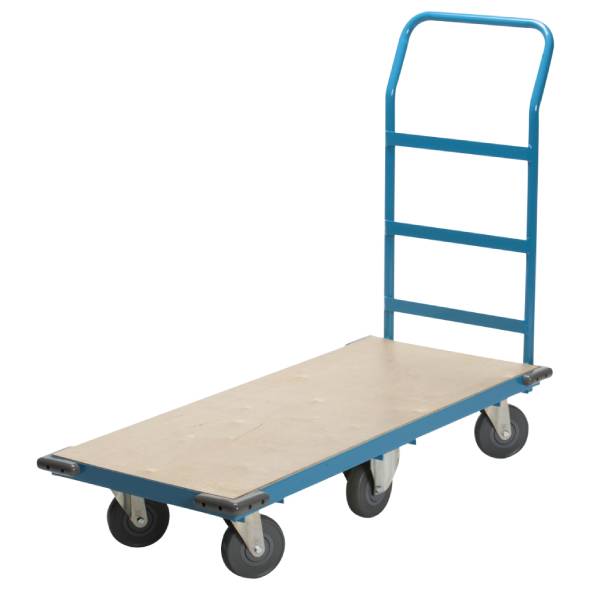 Whether you are moving inventory in a warehouse, restocking shelves, or need an easy method to move work around in an industrial setting or shop, at Unitran Manufacturers, we are bound to have a platform cart that can meet your needs. Our wide variety of types of platform carts are designed to suit all kinds of purposes.
Types of Platform Trucks
Platform trucks are useful in nearly every industry that requires heavy loads or large amounts of inventory to be moved. They are an incredibly useful, efficient, and simple way to relocate inventory. The right type of cart can ensure that the specific needs of a facility are met with as little frustration as possible. Some of the different types of platform carts manufactured by Unitran include:
HD Steel Platform Truck
The most common cart seen in workshops, warehouses, and stores is the heavy-duty steel platform truck. This type of cart is designed to take a heavy beating and absorb damage without losing value. It comes in a variety of sizes and some models can support up to 2400 lbs.
MD Steel Platform Truck
Although the MD steel platform truck is not as durable and strong as the heavy-duty version, it is still a strong tool to keep in your inventory. With a lower profile and lighter frame, it is well suited for use in retail or light industrial settings.
HD Wood Platform Truck
The HD wood platform truck is essentially a version of the steel platform truck with a wooden deck instead of a steel deck. Although the wooden deck is less durable than the steel variety, it can be replaced if it is damaged and provides a softer surface for transporting fragile or scratchable materials.
Hardwood Platform Truck
An extra set of swivelling wheels, a wooden platform, and a wood finished platform all come together to make the hardwood platform truck ideal for retail, restaurant, and even hotel applications.
Wagon Platform Truck
If you need a cart that is capable of going off-road, the wagon platform truck is the way to go. This type of cart has pneumatic tires and a swivelling front axle to allow it to travers better on gravel, dirt, or other rough terrain, making it ideal for nurseries and garden centers.
If you would like to learn more about some of the different types of platform carts that we manufacture, or if you would like to learn more about any of the other products that Unitran Manufacturers supplies, please contact us by filling out a contact form on our website or by calling us at 604-574-3465. We have over 50 years of experience in the fabrication industry as a Canadian warehouse equipment provider.