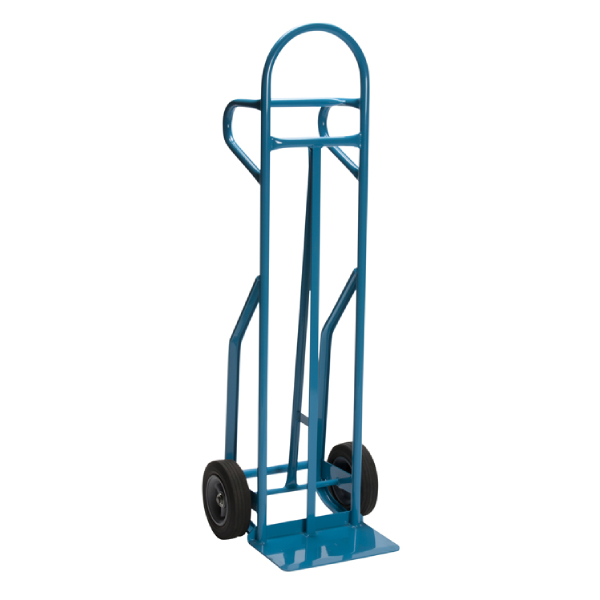 If you are looking for equipment for your warehouse, automotive shop, or industrial facility, it can be difficult to determine which options provide the best balance of quality, value, and reliability. While there are many different types of steel carts, rolling ladders, and hand trucks available to choose from, it is well worth your time and money to choose powder-coated products. As a leading provider of quality hand trucks and other equipment, the team at Unitran Manufacturers knows that there are many benefits of powder-coated equipment. That is why our team has compiled some information on these benefits to demonstrate why powder-coated equipment is well worth the price.
Learn about the key features of mechanics ladders and the benefits they offer.
What is Powder Coating?
Powder coating is a method of painting metal parts or products that differs greatly from most conventional painting methods. Instead of spraying paint onto a surface, powder coating involves the process of spraying powder of a certain colour onto the surface. This powder holds an electrical charge, causing it to adhere to the surface. This powder is then baked onto the surface for a durable and long-lasting finish.
3 Reasons to Choose Powder-Coated Equipment
Powder-coated equipment offers the following benefits for various operations:
1. Enhanced Durability
A powder-coated finish is resistant to chipping, fading, scratches, and other common forms of wear. This ensures that your hand truck, cart, ladder, or other equipment have the durability required to handle harsh work environments while maintaining their appearance and integrity. Powder-coated finishes are also highly resistant to rust and corrosion, making it a great choice for equipment that will be used indoors and outside.
2. Reduced Cleaning Requirements
Powder-coated equipment is extremely easy to clean and maintain over time when compared to conventional paint-based finishes, enabling workers to spend less time on equipment care and more time on other tasks. While paint-based finishes and powder-coated finishes will accumulate dirt, dust, and debris over time, the latter can often be effectively cleaned with a dry towel or damp cloth while the former will typically require some form of cleaning product to produce similar results.
3. Cost Savings Over Time
Equipment costs can add up quickly, especially if you are replacing or repairing your equipment more often than you would like to be. With powder-coated equipment, you are getting a durable and low-maintenance solution that offers an extended usable life when compared to other finishes. This allows you to reduce your equipment costs over time without compromising efficiency or equipment safety.
To learn more about our selection of hand trucks, rolling ladders, and other powder-coated equipment, get in touch with the team at Unitran Manufacturers. We can be reached through our online contact form and will be happy to answer any questions you may have regarding our products.