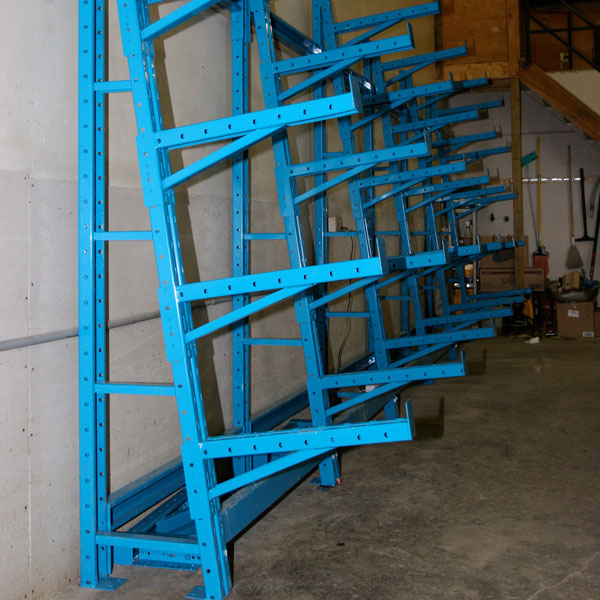 If long bars, pipes, timbers, or other rigid lengths of material are a regular part of your inventory, it might be worth investing in a good setup of bar stock storage racks. This racking system is designed to easily organize and store a variety of long items and make it easy for workers to retrieve and deposit inventory. At Unitran Manufacturers, we provide many different sizes and styles of bar stock racking across Canada.
What is Bar Stock Storage Racking?
Bar stock racking is designed to hold lengths of material, such as piping, in a way that allows free access to inventory while also providing excellent organization for materials that tend to be inconvenient and disorganized in most situations. These racks use a triangular framework with arms protruding from the vertical pieces of the frame. Bar storage racks can be stored up against a wall to minimize the amount of space used, or they can be double-sided to maximize storage space. Bar storage racking is frequently used to store lumber, rebar, long PVC, ABS, copper, aluminum, or any other type of piping.
Bar Storage Racking from Unitran Manufacturers
While some systems for bar stock racking require that lengths of material be slid into place through the ends of the rack, all racking systems from Unitran Manufacturers are able to be accessed from the side, making for much simpler retrieval of stock as well as better organization. Bar storage racks from Unitran Manufacturers are all powder coated to improve weather resistance for indoor or outdoor use. Each arm used on these racks has a maximum weight capacity of 600 lbs and the arms come in various lengths for storing different sizes of inventory.
If you are interested in finding out more about the types of warehouse storage systems that Unitran Manfacturers offers, or if you would like to learn more about any of the other products we supply, please contact us by filling out a contact form on our website or by calling us at 604-574-3465. We have over 50 years of experience in the fabrication industry as a Canadian warehouse equipment provider.