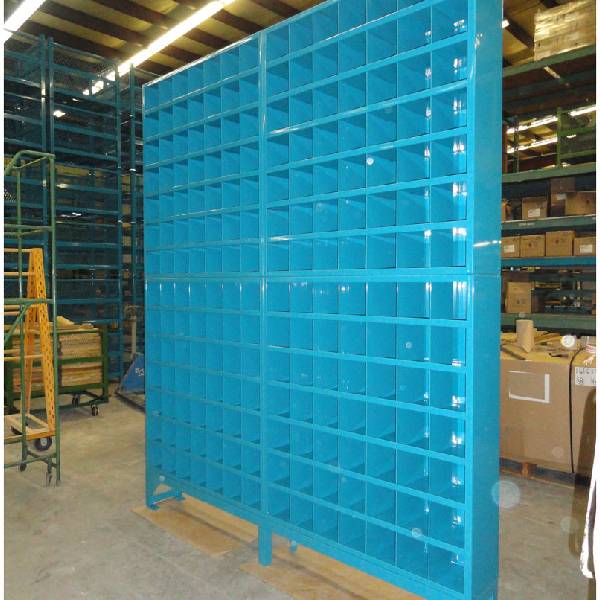 For many warehouses, handling and storing small items can be problematic. It is easy to stack and organize large inventory, but smaller inventory can get cluttered, unorganized, and lost without a proper system in place. At Unitran Manufacturers, we design and manufacture all kinds of great storage systems and industrial equipment, including warehouse solutions for small items.
Warehouse Storage and Organization for Small Stock
With the right warehouse storage system, a facility can reduce the amount of time and effort that is wasted on finding stock and focus on more important tasks. Some different types of storage and handling solutions for small items that Unitran Manufacturers produces includes:
Bolt Bin Cabinets
If a warehouse's small stock includes any loose inventory, bolt bin cabinets can be an excellent storage solution that helps to keep things organized. Bolt bin cabinets use a grid of cubbies to store product. These cabinets can anchor to the wall for safety and are capable of storing a massive number of different items. They come in various sizes and can have differently sized cubbies for small to medium items.
Stacking Storage Containers
Some warehouses store massive amounts of the same item. In such cases, using stacking storage containers with either mesh or solid walls can be beneficial. Storage bins are excellent for bulk storage and they are able to be stacked on top of one another to improve floor space.
Structural Mezzanines
In many cases, warehouses store a mixture of small and large stock. In these cases, having designated areas for the two different sizes of stock can be beneficial in keeping the warehouse organized. One of the best ways to separate small items from large items in a warehouse is by incorporating a structural mezzanine. Because small stock can be easily carried, storing it in a mezzanine and using a shelving system on the second level can greatly help with keeping the warehouse organized. Any time that small stock needs to be sorted, it can be done out of the way of the rest of the warehouse's regular operations.
If you would like to learn more about some of the warehouse solutions for small items that we manufacture, or if you would like to learn more about any of the other products that Unitran Manufacturers supplies, please contact us by filling out a contact form on our website or by calling us at 604-574-3465. We have over 50 years of experience in the fabrication industry as a Canadian warehouse equipment provider.