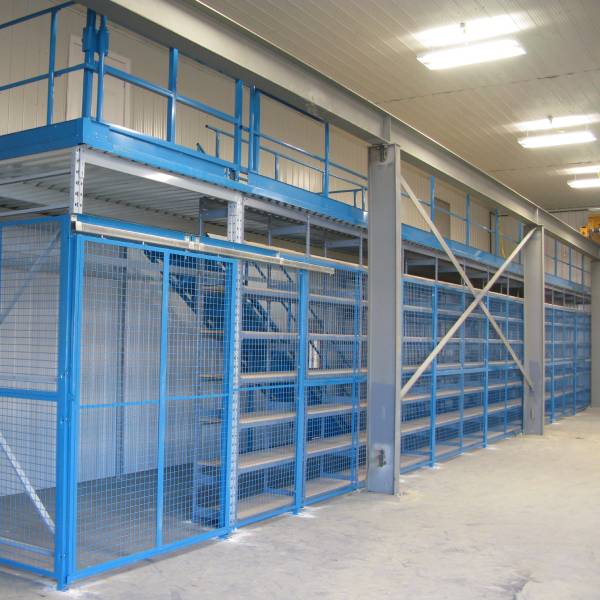 If you work with any kind of valuable assets or materials, or if your inventory has the potential to be dangerous and needs to be kept away from uninitiated hands, it is extremely beneficial to have security cages for storage. Whether you are storing small items or large quantities of inventory, Unitran Manufacturers can provide the proper lock-up system for your needs.
Types of Security Storage Cages
There are many different ways to secure inventory. Whether you are looking for a simple yet secure cabinet system or a full-blown warehouse inventory security fence, there are options available from Unitran Manufacturers. Some of the products that we manufacture for inventory lock-up include:
EZ Rect Security Lock-Ups
EZ Rect systems are incredibly simple to assemble and reliable systems for stock storage. The EZ Rect Security Lock-Up is a cage system that turns regular EZ Rect shelving into a lockable cabinet. The cage doors and walls bolt onto existing shelving in a way that is incredibly easy to install. This system is great for in-store use as well as warehouse or industrial use. A range of sizes are available to ensure that this security cage system will fit any shelf size.
Modular Security Fencing
If any part of an operation requires larger, more robust security than a locking cabinet can offer, modular security fencing is often the best way to go. By using pre-engineered 8-foot tall wire panels to create a walk-in cage, this storage security system can create a convenient, safe space for stock and inventory. Modular security fencing is available in a variety of sizes to suit any warehouse or factory's storage needs, and they are also ideal for stores that are in need of an overstock area.
If you would like to learn more about security cages for storage, or if you would like to learn more about any of the other products that Unitran Manufacturers supplies, please contact us by filling out a contact form on our website or by calling us at 604-574-3465. We have over 50 years of experience in the fabrication industry as a Canadian warehouse equipment provider.