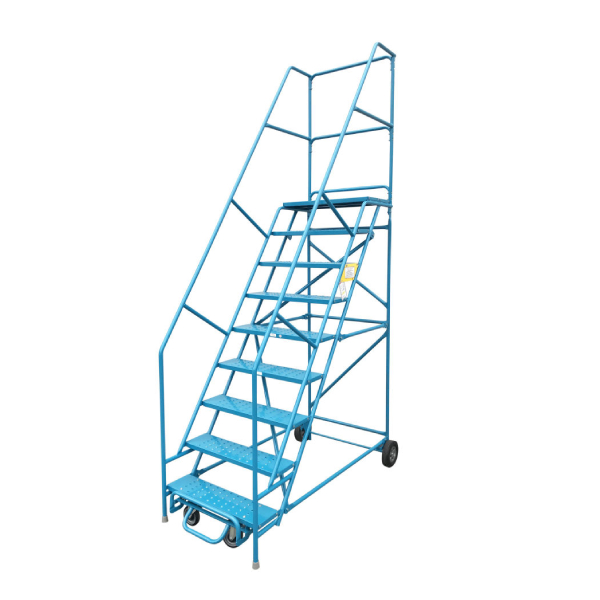 When it comes to warehouses and industrial facilities, accessing high shelves for products and materials is a common part of daily operations. Though there are many ways to access high warehouse shelves, only a few methods are both efficient and safe. As leading providers of warehouse equipment such as rolling ladders and forklift workstages, the team at Unitran Manufacturers understands the importance of safe operation. That is why have provided some information outlining how to safely reach high warehouse shelves along with an overview of some equipment that will help you get the job done right.
Solutions for High Warehouse Shelves
Although working at heights is a necessary part of the job for most warehouses, it is important to be aware of all major safety hazards and to use suitable equipment for the job. By utilizing the right equipment, you are maximizing efficiency while minimizing the risk of injury, product damage, or other incidents. The following types of products offer a balanced combination of efficiency and safety, making them a great choice for nearly any warehouse:
Rolling Ladders
As referenced by the name, rolling ladders are a mobile ladder system that utilizes wheels for easy transportation and locking systems to prevent them from moving during use. Rolling ladders are available in a variety of configurations to meet the precise needs of your warehouse. Most units can also be equipped with additional shelf trays, giving users additional space to place materials or products while on top of the ladder. Whether you need a large rolling ladder to reach exceptionally tall shelves or a unit with an extended work platform, there is a rolling ladder that is perfect for your needs.
Forklift Workstages
For warehouses with exceptionally high shelves, a rolling ladder may not be tall enough to allow for sufficient access. In these instances, many warehouses and industrial facilities utilize forklift workstages. Also known as forklift work platforms, these unique products attach to the forks of a forklift, allowing for personnel to be safely raised to access tall shelves. Each unit features tall safety rails, a mesh back panel to attach a safety harness, and optional trays for safe product placement. In addition to accessing shelves, forklift workstages are a great option for performing repairs and labour on high areas of your facility, eliminating the need to rent an aerial lift or other type of specialty equipment.
To learn more about our selection of rolling ladders, forklift workstages, and other warehouse equipment, get in touch with the team at Unitran Manufacturers. We can be reached through our online contact form and will work with you to deliver the perfect solution for your facility.