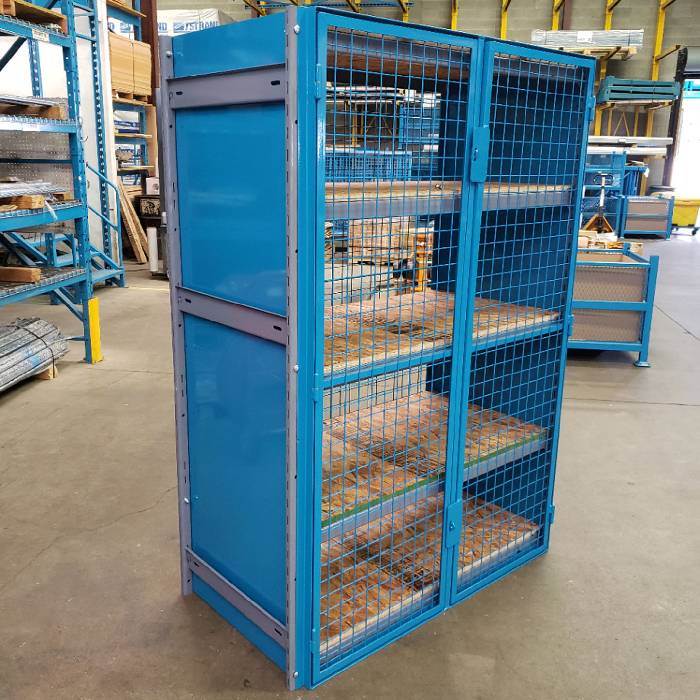 Whether you need to lock up your facility's inventory for safety or security, there are many different systems available to provide you with the solution you need. Inventory storage lockup systems are designed to keep access to your inventory and supplies limited to authorized personnel. At Unitran Manufacturers, we design and produce many various types of lockup solutions for use in all kinds of industries.
Systems for Locking Up Inventory
If you have inventory that is potentially hazardous or high-value goods that could be stolen, having the right inventory lockup system can be useful. Some of the best solutions for locking up stock include:
Shelving Lockup Systems
The E-Z-Rect shelving system is commonly used in many different types of facilities, including workshops, warehouses, and retail. If you have a need to secure any part of your E-Z-Rect shelving system, you can transform the shelving unit into a secure cage with lockable wire mesh doors. This is a great system to provide security without losing too much visibility. The doors and side panels attach easily without any need to dismantle the shelving unit.
Security Fencing
If you need to lock up an entire section of your facility, modular security fencing is the way to go. These fence panels can be used to secure stock areas, mezzanines, work areas, or anything else that needs to be secured from the rest of the facility. These systems are ideal for parts and inventory storage as well as for hazardous areas, and they can be easily relocated to provide versatility in a facility.
Gas Cylinder Cabinets
Hazardous or flammable gases are required to be locked up in most areas for the sake of public safety. If you use and store any kinds of gas cylinders in your facility, gas cylinder cabinets can be a lifesaver. These cages are independent structures that can be moved around a facility easily. They come in all kinds of sizes in order to provide storage for different sizes of cylinders. The wire mesh used to build these cages provides plenty of breathability for the gases being stored and the cages are powder coated and painted a bright yellow to ensure that they are highly visible.
If you would like to find out more about different inventory lockup systems, or if you are interested in any of the products that we manufacture, please contact us at 604-574-3465. We have over 50 years of experience in the fabrication industry as a Canadian warehouse equipment provider.