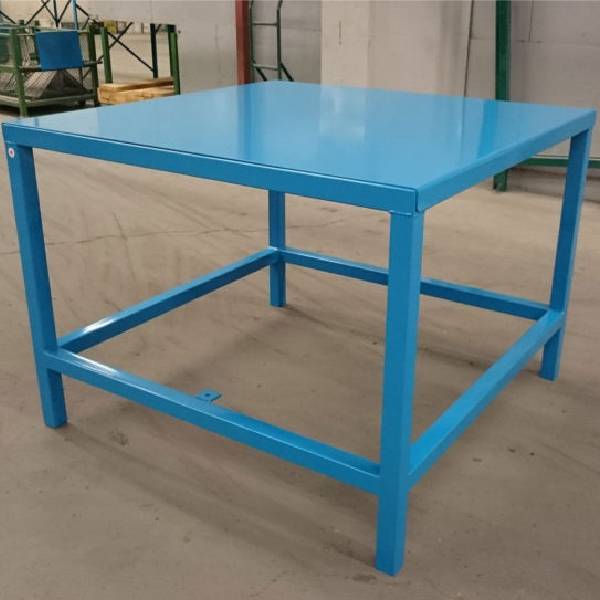 In any industrial facility, it can be a major efficiency booster to have workbenches that perfectly suit the needs of workers. At Unitran Manufacturers, we design and fabricate custom industrial workbenches that are sturdy and durable. Whether a facility requires multiple workbenches for pieces of machinery or a stable, heat resistant worksurface to weld on, there are many solutions available.
Types of Industrial Workbenches
There are many types of workbenches available in order to meet a wide variety of industries and their needs. Some of the different types of custom industrial workbenches include:
HD Workbench
If all you need is a durable flat surface on which to work on projects, the HD workbench is the way to go. The 14-gauge coated metal worksurface ensures that you will be able to work on heavy duty materials without fear of breaking the workbench, and swivel casters allow this work surface to move anywhere in a facility with ease.
Packing Tables
Packing tables are ideal for facilities that mainly operate in shipping and receiving goods. While they can be used as worksurfaces for many other types of light duty work, these stationary workbenches are best suited for warehouses and shipping bays.
Machine Stand
Machine stands are designed to take up as little room as possible while offering a stable platform on which to set up and use heavy duty machinery. The lip around the edge of the table prevents machinery from vibrating off the surface. With a 2000-pound weight capacity, these tables are able to support substantial loads.
Welding Tables
In any facility wherein welding is a part of the daily routine, good welding tables are indispensable. Welding tables can be mobile or stationary and they come with adjustable height settings to ensure that they are useful for any job.
Cutting Table
Similar to standard workbenches, cutting tables offer a simple, flat surface on which to work. Cutting tables are built with a shelf for better storage of tools and materials, and they also have a drop-in bar grate top surface to make cutting through materials easier.
If you are interested in finding out more about the custom industrial workbenches that we can create, or if you would like to learn more about any of the other products that we manufacture, please contact us at 604-574-3465. We have over 50 years of experience in the fabrication industry as a Canadian warehouse equipment provider.