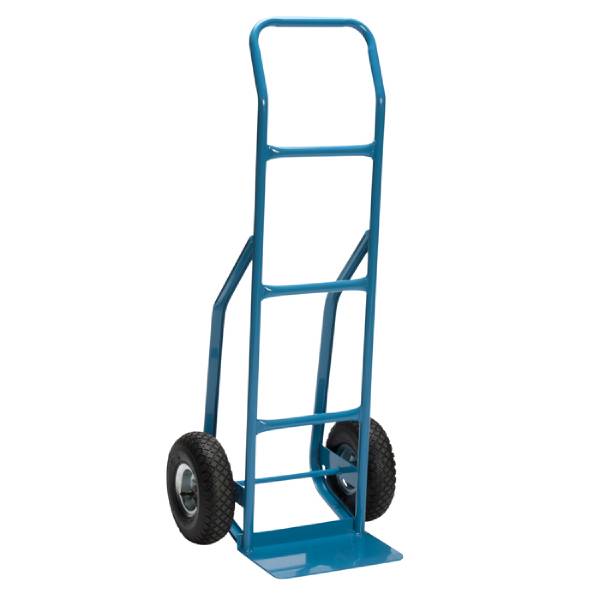 Hand trucks can be some of the most useful devices for moving heavy loads or awkward stacks of material quickly and efficiently. At Unitran Manufacturers we produce a wide variety of different warehouse and industrial equipment, including different types of hand trucks, and we know the best hand trucks for use on stairs.
What Hand Trucks Should be Used on Stairs?
If you need a hand truck that can easily carry large loads up and down stairs, there are many different options available. Typically, the best hand trucks that should be used on stairs will have large wheels that have a little bit of bounce to them. Stiff, small wheels will not be as capable of grabbing the edge of the stair and supporting their own weight as they are pulled upward. Regardless of what hand truck is being used, you should always seek help from a second person when operating these devices on stairs. Solo attempts at using a hand truck on stairs could result in injury or property damage.
Some of the best types of hand trucks to use on stairs include:
Rough Terrain Hand Trucks
As their name implies, rough terrain hand trucks are perfect for use on uneven ground. Their big wheels, sturdy frames, and pneumatic tires make them ideal for use on stairs.
10" PN Delivery Hand Truck
If you need a lighter, more portable hand truck that is still capable of handling stairs, the 10" PN delivery hand truck is a great option. It is lightweight and easy to move, but still features large pneumatic tires that make transporting goods up and down stairs doable.
All Purpose Hand Trucks
All purpose hand trucks are universally useful and incredibly basic. They can be used in or outdoor, and they can carry up to 750lbs. These hand trucks also feature large pneumatic tires which can easily grip and climb stairs.
If you would like to learn more about the best hand trucks for stairs, or if you would like to learn more about any of the other products that Unitran Manufacturers supplies, please contact us by filling out a contact form on our website or by calling us at 604-574-3465. We have over 50 years of experience in the fabrication industry as a Canadian warehouse equipment provider.